Patents in Asia Are on the Rise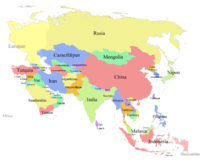 Last year, in its annual World Intellectual Property Indicators report, WIPO ranked China number one in patent applications for 2015 with a record-breaking 1,101,864 invention patent filings. Not only did China set a new record by becoming the first office worldwide to receive more than 1 million patent applications, but it also showed the fastest growth in 2015 at 18.7%. Since then, China has continued to show increasing numbers in tech innovation.
In the business sector, nearly half of all Chinese unicorns (startups) are reaching their $1 billion value mark in just two years, much faster than the seven years it typically takes their American counterparts, according to the Boston Consulting Group. In addition, China has seen phenomenal growth in education, with over two million college students graduating with degrees in science and engineering each year.
India, on the other hand, seems to be lagging behind. A recent survey by Swiss investment firm UBS Research found that the country's RD spending is down to about 0.6%, a mere fraction when compared with its economy. The Indian Patent Office has only now just begun to see an increase in the number of patent filings, largely due to the incentives offered by the Indian government.
The Startup India initiative is one program that offers a number of benefits to startups "working towards innovation, development or improvement of products or processes or services" and whose turnover has not exceeded INR 25 crore (roughly $4 million USD) in any fiscal year. Participants can also receive up to 80% rebate on patent filings, reduced application fees, tax exemptions and a number of other benefits.
UBS Research predicts that by 2020, all of Asia is likely to surpass the U.S and European Union in RD spending, with China leading the pack and likely exceeding the U.S. by as early as 2018. For more info, check out the full survey by clicking here.