Companies
We understand that your IP isn't just a company asset. It's the representation of innovation, hard work, and significant investment.
GPS provides support for R&D, Prosecution and Litigation activities, and IP Portfolio and Business Strategy. We work directly with those utilizing patents to create business momentum and bring new technology into the world.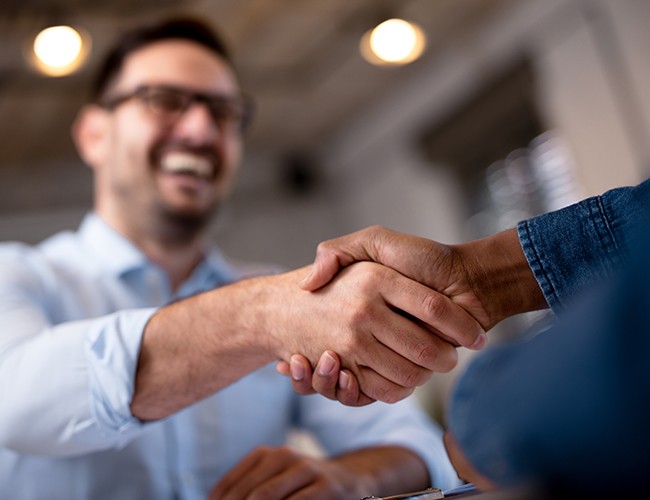 Global Patent Solutions is for you if you want to:
Bring your technology to life.
Ensure your portfolio supports your objectives and moves your business forward.
Understand your marketplace and how to put your ideas in play.
Maximize the return on your IP investment.
Protect the investment of time, money, and innovation represented by your patents and IP.
Keep track of your portfolio – prioritizing, leveraging, valuing, and monetizing – to allow you to focus on other business objectives.
Find potential buyers and market patents for sale or licensing.
Lessen your burden because you don't have time to constantly monitor your portfolios.
Our services can help you to:
Operate confidently, knowing you have done your due diligence with professional research to protect you and your IP from litigation.
Avoid willful blindness.
Streamline your work life.
Gain a multi-faceted understanding of your IP – it's value today and its future potential.
Refine your portfolio so that it works for you, making money and enhancing your business.
Stay competitive and grow shareholder value. Determine the market need before making your patent investment.
Increase confidence knowing that professional research provides tremendous savings when you understand the profit potential for licensing your patents.
Gain peace of mind knowing you've thoroughly researched the patent landscape.

"We believe the quality is good and it keeps getting better. When I solicit feedback internally from my team, it has always been positive."
_
Traci H. – Global IP Champion, W.L. Gore
IP Lifecycle Services Include
Portfolio Analysis
When providing portfolio analysis support, GPS assists clients in answering three primary questions:
Why do we have a portfolio of patents? (Regardless if it's 1 patent, 10 patents, 100 patents, or thousands of patents.)
How does each patent in the portfolio fulfill the objective(s) outlined in the answer to the first question? (E.g., what is valuable, how valuable, and why?)
What actions could or should be taken to bring better alignment of the portfolio with the objectives?
Research & Development Support
GPS augments your internal research with deep-dives into external patent and market data to enable a more complete understanding of the opportunities and challenges ahead. Armed with these analyses, your path forward becomes clear. Examples of analyses that clients turn to GPS to provide include:
Technology & Market Landscape Research

Whitespace Identification – Uncover previously untapped and unclaimed opportunities
Trend identification – Understand market movements influencing future investments

Competitor Landscape Research

Unearth the technology strategies of your market peers

Portfolio Analysis

Identify the patents contributing the most and least to fulfilling the organizational objectives
Your Portfolio – what is most worth defending, what's missing, what should be jettisoned?
Your Competitors' Portfolios – gain an understanding of where they're going, what they have, and how they might use what they have
IP-Driven Business Strategy Formulation
GPS can provide valuable assistance as you navigate key turning points in your business direction
M & A Due Diligence Support – lean on industry experts at GPS to assist efforts during significant business transactions
"Packaging" Your IP Strategy – GPS can help you clearly communicate your IP story to various interested constituents
• For Senior Management / Business Leaders
• For Investors
Research Services
Decisions are only as good as the data upon which they rely.
Since its formation 15 years ago, GPS has provided legally-significant search results to leading companies, law firms, and Universities because decisions are only as good as the data upon which they rely.© At GPS, we are experts in every type of patent search. Additionally, we can customize any research project to include technical, market or patent research. If you would like to read about specific patent search types more in-depth, please click here.
Search Enhancement Software
Streamline your searches to save money and time.
Do you need to perform cursory or other searches? Do you want to check on searches that you have outsourced? If so, GPS has developed a proprietary tool to enhance the effectiveness of other free and subscription search tools so that you can streamline your searches to save money and time. Ask us whether this tool might be appropriate for your own use.
Drafting
Don't fret to get your applications drafted.
If your internal team has overflow or if you don't have an internal IP team, GPS can help. Put us to work to assist in drafting your patent application today.
Drawings, Translations, Foreign Filing Support
Find the support you need for niche services.
Leverage the industry relationships that GPS has forged over the years to find the support you need for niche services related to prosecution efforts.
Ideation and Invention / Disclosure Management Services
Support in managing ideas and inventions so priorities can be best managed.
GPS addresses the prosecution effort holistically, helping you ensure that ideas are vetted and moved through the decision and filing processes most efficiently and effectively, thereby reducing cost and improving predictability within your IP management.
Early Case Support
Gather supportive data for to empower litigation defense strategies for confident decisions.
GPS has developed a cost-effective approach for assembling important data for formulating an effective litigation defense strategy. Getting an early understanding of strengths and weaknesses of applicable patents and associated prior art enables counsel to recommend the best approach forward.
Invalidity Searching
Find even the most obscure prior art to invalidate a problem patent.
When finding invalidating art is essential to a successful outcome, there's no better place to turn than GPS. Our Analysts, with years of experience in their specific domains, can find the "needle-in-the-haystack" when you need it most. We exhaust all patent and non-patent literature databases to find what's needed, and if that's not enough, we go even further by turning to less traditional sources. We understand the importance to you of finding invalidating art, and we won't stop until we've satisfied your need.
Licensing And Assertion Support
Protect your valuable IP investments by asserting your rights.
It's often said that patents only have value if you demonstrate that you're willing to defend them. You've gone to the effort of obtaining patents to protect your core business; sometimes you need to assert the rights afforded to you by those patents. GPS can provide the support you need to do this as cost-effectively and efficiently as possible.
Due Diligence Validity Searching
Obtain relevant data so that you can assert your IP with confidence.
GPS can quickly and affordably provide you with the data and analyses to help you and your counsel ascertain the strength of your patent and the likelihood of it upholding in the face of invalidity counter challenges. Doing this upfront homework ensures you put your best foot forward when asserting your patent rights.
Target Identification
Identify infringers to protect your investments.
GPS provides key research support to help you confidently identify those who are not properly respecting the exclusivity rights afforded to you by your patent. We help pinpoint how and by whom infringement is occurring so that you can protect your investment. Typical projects include:
Infringement Analysis
Reverse-Engineering Support and Claims Analysis
Evidence-of-Use Analysis
Patent Search Expert Witness & IPR Support
Experts you can rely on so you can fulfill your IPR strategies.
Some district courts have sought Expert Search testimony about whether a prior art reference "reasonably could have been raised" during an IPR by implementing the "skilled searcher conducting a diligent search" standard.
Patent Valuation
Understand your patent or portfolio's worth so you can maximize your monetization efforts.
GPS can help you value, rank and categorize your patents, thereby assisting you in determining how to best extract maximum value from each asset.
Licensing And Sale Support
Determine a plan to optimize your portfolio so you can maximize return and best align with core business objectives.
A thorough portfolio review may reveal that some of your patents could provide more value by either being licensed to others or by being sold. GPS can help with the analysis to determine what makes most sense for your company.
Target Identification
Determine who would be most interested in making use of the technology within your patent to best enable marketplace matches.
It takes time and effort to align what you have with what others may need and want. GPS has the resources to perform this effort and identify the most likely candidates for licensing or buying your patents. The deep domain knowledge of our team of Analysts enables them to identify not only more obvious candidates, but also those that might otherwise be less discoverable. GPS can augment this process by also providing motivation to potential buyers and licensees through additional analyses such as:
Reverse Engineering Support and Claims Analysis
Evidence-of-Use Analysis
Marketing & Sales Support For Patent Assets
Market your patents for selling or licensing effectively and quickly.
GPS has the resources and expertise to create a marketing package that shines the best light on the assets to be licensed or sold. We help clearly convey the value to potential buyers, and we can quickly customize the messaging for each specific opportunity.
Brokerage & Patent Marketplace
Use our experience to promote your assets in the marketplace, generating interest and sales.
GPS has the means to also get your patent assets in front of those who would best benefit from an acquisition or license of the patent or portfolio. We can augment your own promotional activities and also get your patent or portfolio listed and promoted through an industry-leading patent marketplace, thereby providing additional exposure for your patent assets.