These Unique Patents Are Putting Safety First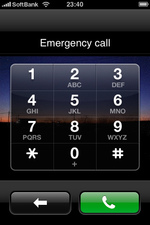 From print-reading panic buttons to self-crumpling cars, these forward-thinking companies are putting safety at the forefront of their technology.
Apple recently patented a process that would give iPhone users the ability to call 911 discreetly "when a conventional method may not be practical." Users can already make an emergency phone call when their device is locked, however, this method would allow them to do so should an attacker be watching. An iPhone might be programmed using the new technology to contact 911 after recognizing a sequence of finger prints or applied pressure, something that an assailant may not be aware of. Not only would the program avoid passwords and other methods of log-in, but it could also potentially alert the authorities to a user's whereabouts and record any live feed.
Google subsidiary, Waymo, is looking for ways to make its self-driving cars safer with a new patent that hints toward a more flexible design. The patent describes a design for a softer, flexible car shell held firm by a number of "tension members," like cables. Under normal driving conditions, these cables would keep the car's exterior rigid, only loosening or releasing to collapse and soften parts of the vehicle in the event of a collision. The result, or at least the hope, is a lighter impact for either the person or other vehicle hit.
Bank of America has filed three new patents related to blockchain technology that could help keep customers' accounts safe and sound. The patents cover technology that would help better monitor and authenticate user transactions as well as increase verification of a user's identity. Bank of America has long been a believer in blockchain technology as an innovate way to make transactions in all industries more efficient and secure and has recently filed over 15 related patents.