Appeals Court Calls It A Wrap for This Podcasting Patent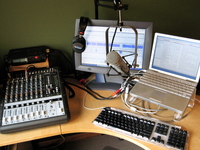 The U.S. Court of Appeals for the Federal Circuit recently ruled in favor of the Electronic Frontier Foundation in a case involving Personal Audio LLC. This "podcasting patent troll" has been involved in suits with a number of different organizations for years now, including: CBS, NBC and even comedian Adam Carolla.
Early last year, Carolla announced his podcasting network, ACE Broadcasting was being sued by non-practicing entity Personal Audio LLC for allegedly infringing on a patent covering a "system for disseminating media content representing episodes in a serialized sequence." Armed with a FundAnything page to help raise money for his legal defense, and tons of support from tech-lovers everywhere, Carolla was able to take his battle with Personal Audio public, drawing new interest and attention to the issue of patent trolls.
Though Carolla ended up settling his own dispute with PA out of court, the EFF had begun building a case of its own, gaining enough momentum through its crowdfunding campaign to file an inter partes review and request that U.S. patent 8,112,504 be invalidated for good. In 2015, the Patent Trial and Appeal Board ruled in support of the EFF, concluding that the podcast technology claimed by Personal Audio was unpatentable based on prior art evidence.
The U.S. Court of Appeals seconded that notion just recently, supporting the inter partes review (IPR) ruling unanimously. The decision reads, "The PTAB held claims 31–35 of the '504 Patent unpatentable as anticipated under 35 U.S.C. § 102 and/or obvious under 35 U.S.C. § 103, leading to this appeal. On the merits of the appeal, we affirm the judgment of unpatentability."
To read more, click here.