Innovative Healthcare Riding on CloudMine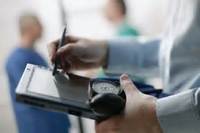 Recent advances in technology have revolutionized the healthcare industry which, according to the Center for Health Workforce Studies, is growing at a remarkable rate- more than twice as fast as the general economy. Nearly all of the country's hospitals have already implemented the use of electronic health records (EHR) and are experimenting with the use of fitness wearables, telecommunications and even advanced robotics.
According to a 2015 report published by market research firm Mordor Intelligence, global telemedicine is a fast-growing market, estimated to reach over $34 billion by 2020. With the cost of insurance steadily rising, an influx in chronic diseases and a fast-growing number of technological advances, more and more people are opting for this innovative new form of healthcare, using mobile medical apps to meet their healthcare needs.
CloudMine is one company helping innovative healthcare facilities to create and develop their own apps by providing them with a user-friendly, HIPAA compliant platform. Since its launch in 2011, the Philadelphia-based company has partnered with several healthcare organizations, data analytics companies and more to create secure and technologically-advanced applications that have the ability to link with wearables, medical equipment and mobile devices.
Most recently, CloudMine has announced a new partnership with digital innovation studio Modus, in the hopes of enhancing the provider-patient experience. In a press release regarding the new collaboration, CloudMine CEO Steve Wray states, "The combination of CloudMine's secure, compliant Connected Health Cloud with the innovative design and development expertise of Modus will allow healthcare stakeholders to fulfill their vision of a better healthcare experience."
To learn more, click here.