Retail Patents on Land, in Air and By Sea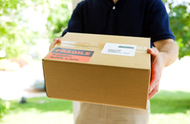 Wal-Mart is looking to the skies for its next big development. According to a recent patent, the world's largest retailer is toying with the idea of creating a floating warehouse, or "gas-filled aerial transport and launch system," that would make deliveries to shoppers via drone. The patent describes a large aerial vehicle that is remote controlled, equipped with multiple launching pads and capable of flying to heights of up to 1,000 feet.
It's an interesting concept for a patent, filed not that long after Amazon filed its own application for a warehouse located under the sea. Using watertight boxes, buoys and a lot of compressed air, Amazon's patent describes a unique system in which items would float to the surface from the underwater facility, where a team of delivery drones or people would be waiting to help get them to their final destinations.
While these airborne and underwater warehouses might sound odd, these flexible methods of storing distributing goods may help cut costs when it comes to deliveries. In addition, having a mobile warehouse could help either company provide improved customer service to a larger distribution area, changing location as demand varies. The patent states, "The availability of products is dependent in part on the distribution of products. There are numerous ways to distribute and deliver products. Getting the product to a delivery location, however, can cause undesirable delays, can add cost and reduce revenue."
As Wal-Mart continues to work on its e-commerce, offering new promotions like free 2-day shipping and more, Amazon seems more focused on building up its real estate. The company recently paid over $13 billion to acquire Whole Foods.