EV Technology & Innovation Gains Global Political, Corporate Support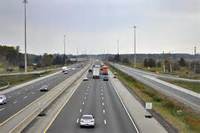 Excitement is building over upcoming deliveries of Tesla's new Model 3. It's the company's most affordable car available to date, with several patents covering its unique wheel designs and sleek look. Industry competition and decreasing sales may have temporarily affected Tesla's stock market value, but that could change with the production of the Model 3. The company is expected to manufacture 5,000 cars per week through the end of 2017 and 10,000 per week by the end of 2018.
Volvo is also committing to a new production timeline for electric vehicles, having recently announced the launch of five new electric vehicles over the next several years. The company plans to produce a number of fully electric models, along with some that are hybrid, between 2019 and 2021 in an effort to help drive consumers away from conventional combustion engines. The goal, according to Volvo execs, is to sell one million electric cars by 2025.
Meanwhile, Britain has decided to ban the sale of new petrol and diesel cars by the year 2040, gradually introducing more electric vehicles along the way. In an effort to improve air quality, the country is following in France's footsteps. Earlier this month, French environment minister Nicolas Hulot announced that the country hopes to reduce the effects of global warming by eliminating the sale of non-electric vehicles by 2040, while also terminating the use of coal for electricity by 2022.
According to the International Energy Agency (IEA), "Industry, governments and early adopters have succeeded in demonstrating that electric cars can deliver the practicality, sustainability, safety and affordability characteristics expected from them, but the EV market still requires policy support to achieve widespread adoption and deployment." As of 2015, electric vehicles accounted for just 0.1% of all cars, a tiny fraction of the world's overall vehicle stock. Policy support, like those implemented by France, Britain, Norway and more, along with corporate strategies such as those from Tesla and Volvo, are helping increase that number significantly, but much still has to be done.
What would you like to see happen? Share with us in the comments.