ASU Ranked Top 30 in University Patents 2016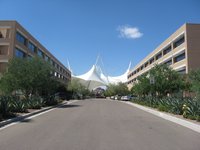 The National Academy of Inventors (NAI), with the Intellectual Property Owners Association (IPO), recently released its list of the Top 100 Worldwide Universities Granted U.S. Utility Patents in 2016. The report, now in its fifth year of publication, helps demonstrate the importance of patents when it comes to making advances in university research, technology and innovation.
Among the top 50 schools ranked were: Washington University, University of Central Florida, and Duke University. Arizona State came in at number 30 on the list with 64 patents- an impressive bump from its spot at number 44 back in 2014.
Since nabbing the number one spot on the U.S. News World Report's list of the most innovative schools in 2015, ASU has celebrated a record-breaking year in patents, seen a significant increase in invention disclosures and ushered in a new wave of creative student programs. This is largely due to the efforts of Arizona Technology Enterprises, the university's exclusive intellectual property management and technology transfer organization. Together, AzTE and ASU have seen the launch of more than 80 startups centered around ASU innovations and raised over $500 million in funding.
The University of Arizona was also on the list at number 80, pulling in 32 patents in 2016. Among the top ten universities of 2016 were: Columbia, Johns Hopkins, California Institute of Technology and the University of California (the Regents of), which continues to hold the number one spot. "The patents our universities produce represent important processes, products and treatments which… helps grow our local, regional and global economy," states NAI President, Paul Sanberg, in a recent press release. "It is an honor to recognize the top patent holders through this report."
To view the full list, click here.