Success & Innovation in the Workplace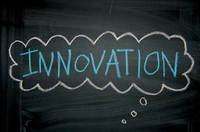 Innovation has become a crucial component for companies in all industries- a key to sustaining growth and financial success in today's competitive marketplace. In a recent report on the role of innovation in business, PwC found that more than half of all CEOs surveyed considered innovation and operational effectiveness to be equally important to the success of their organization, and a "prerequisite for survival." But what drives innovation in the workplace?
In 2015, Google conducted a study that examined the effects of collaboration on innovation in the workplace. The impact was found to be significant. In fact, of the 258 companies surveyed, 88% believed that a collaborative environment not only results in higher employee morale, but is the number one factor impacting company profitability.
"Collaboration equals innovation" – Michael Dell, CEO of Dell Technologies
With employee morale also comes a sense of purpose. PwC mentions the participants of its study discussing the need "to empower frontline staff," to create a diverse, passionate culture where employees feel challenged, yet supported. A passionate man himself, Steve Jobs founded Apple in his garage at the age of just 21, and has since become known as one of the world's most iconic innovators, inspiring countless others to follow in his footsteps. In 2001, shortly after opening the first Apple store in Virginia, Jobs stated that the vision behind Apple wasn't just to sell computers, but to "enrich lives."
"People with passion can change the world." – Steve Jobs, Co-founder of Apple, Inc.
Innovation also requires taking risks and, while that doesn't necessarily mean being reckless, it does mean being okay with the possibility of failure. Take Elon Musk, for example, who risked financial ruin in order to keep both his space exploration company, SpaceX, and electric car company, Tesla Motors afloat. At the time, most people thought that he was backing the wrong horse; Today, he's worth over $15 billion.
"In a world that's changing really quickly, the only strategy that is guaranteed to fail is not taking risks." — Mark Zuckerberg, CEO of Facebook