Supreme Court Unanimous in Patent Venue Decision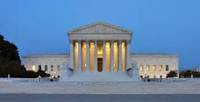 Tech companies, especially, are rejoicing after a Supreme Court ruling on Monday placed strict limitations on where patent lawsuits can be filed.
TC Heartland LLC v. Kraft Food Group Brands LLC addressed the issue of patent venues after decades without change, after Kraft sued TC Heartland in Delaware back in 2014 for the alleged infringement of its patents related to "liquid water enhancers." Despite the fact that Heartland "is not registered to do business in Delaware, has no local presence in Delaware, has not entered into any supply contracts in Delaware or called on any accounts there to solicit sales," the District of Delaware claimed that it had personal jurisdiction over the case, denying Heartland's motion for a change of venue.
In a unanimous decision delivered by Justice Clarence Thomas, the Supreme Court ruled that patent owners can only bring lawsuits in states where the companies they are suing are incorporated. The decision reads, "The patent venue statute, 28 U. S. C. §1400(b), provides that '[a]ny civil action for patent infringement may be brought in the judicial district where the defendant resides, or where the defendant has committed acts of infringement and has a regular and established place of business.' In Fourco Glass Co. v. Transmirra Products Corp., 353 U. S. 222, 226 (1957), this Court concluded that for purposes of §1400(b) a domestic corporation 'resides' only in its State of incorporation."
Therefore, the Court has reversed the verdict of the Court of Appeals. The new decision will likely mean a significant decrease in the number of cases filed in the Eastern District of Texas, the elimination of unfair practices like forum shopping, and perhaps even a reduction in the cost of defending patent suits. Many consider this to be one of the most significant Supreme Court decisions in the last few decades and an important step in putting an end to abuse in the patent system. To read the full decision, click here.