Innovative Clean Energy Startups Could be the Winds of Change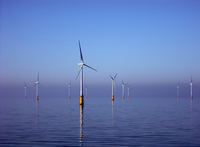 The U.S. may be falling behind when it comes to clean energy innovation, but a new report shows that the global offshore wind turbine market could reach $58 billion by 2025. The report, published by Transparency Market Research, predicts a broad expansion of offshore wind power generation over the next eight years, and forecasts the global offshore wind turbines market to grow at a CAGR of 7.7% during that time.
Europe and Asia Pacific currently dominate the market, however, the U.S. isn't completely out of the picture. In fact, the Block Island Offshore Wind Farm off the coast of Rhode Island just recently became the first fully operational U.S. wind farm, powering an entire community. This 30 megawatt, 5 turbine system is projected to reduce island electric rates by roughly 40%, providing clean energy for thousands of homes.
What else is in the works for wind energy?
Swedish-based company, SeaTwirl, has recently received a patent from the USPTO for a floating wind turbine capable of withstanding hard winds and rough ocean waters. The newly designed, durable turbine requires less material for construction and can fold or retract its blades in cases of extreme weather.
Silicon Valley startup, Semtive, is taking wind energy in a different direction, providing small, affordable wind turbines for the production of decentralized clean energy. The NEMOI Wind Turbine System is designed with a vertical axis, allowing wind capture from all directions, and can generate electricity from as little as 10 rpms of wind. Check out more about them by clicking here.