GoDaddy Wins Twice in RPost Patent Case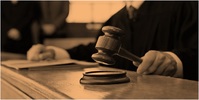 The U.S. Court of Appeals is standing behind domain registrar and web hosting company GoDaddy in its recent patent battle with RPost Communications Ltd.
RPost first claimed that GoDaddy's email marketing product infringed on a number of patents related to basic email functions years ago, and threatened to take the Scottdale-based company to court. Rather than sit back and wait, however, GoDaddy decided to fight back, filing a lawsuit of its own against RPost in 2014. The order, signed by Senior Judge James A Teilborg, stated GoDaddy's initial intention of "seeking, among other things, a declaration of unenforceability of various patents (the "Patents-in-Suit") for patent misuse."
In 2016, the U.S. District Court for the District of Arizona ruled that the claims in RPost's patents covered abstract ideas and were therefore invalid under the 2014 Alice Corp. v. CLS Bank International decision. The jury trial set to begin just months later was also vacated.
RPost then appealed GoDaddy's win to the U.S. Court of Appeals for the Federal Circuit in Washington D.C. However, a three-judge panel upheld the District Court's original decision, affirming the invalidation of RPost's patents and dismissing all claims. The Rule 36 judgement can be found here.
RPost is a certified electronic communications company and the creator of RMail, currently holding rights to over 50 patents in more than 20 countries world-wide. GoDaddy is a web hosting company and the world's largest internet domain registrar with roughly 17 million customers and more than 70 million domain names currently under management.