China Accelerates Growth in International Patents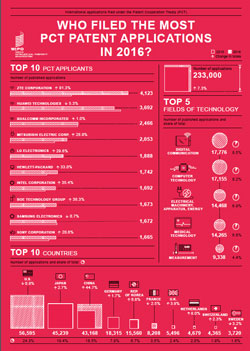 Last year, in its annual World Intellectual Property Indicators report, WIPO ranked China number one in patent applications for 2015 with a record-breaking 1,101,864 invention patent filings. Not only did China set a new record by becoming the first office worldwide to receive more than 1 million patent applications, but it also showed the fastest growth in 2015 at 18.7%.
Now, a new WIPO report shows that China is on track to surpass the U.S. and Japan in applications overseas, becoming the leading nation in international patents in the next two to three years. According to the report, China's international filings increased 45% in 2016, totaling roughly 43,000 international patents. Most of the growth is being attributed to two of the country's biggest telecommunications and electronics companies, ZTE and Huawei, which were together responsible for roughly 7,800 patents.
Chinese patents also accounted for 18% of the total 233,000 applications filed under the WIPO Patent Cooperation Treaty last year, which allows one to seek patent protection simultaneously in multiple countries with a single international application. Since 2002, China's number of applications falling under the PCT have increased significantly, primarily in areas like mobile, video technology and other electronics.
Japan has also seen an increase in international patent filings, despite a continually declining number of domestic applications. Of all applications last year, Asia was responsible for nearly half, followed by Europe at 25.6% and North America at 25.3%.
For more information, click here.