Supreme Court Hears Arguments in Patent Venue Case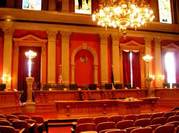 The Supreme Court heard oral arguments on Monday in what is arguably one of the most highly anticipated patent lawsuits of the year, TC Heartland LLC v. Kraft Food Group Brands LLC.
Kraft first sued TC Heartland in Delaware back in 2014, for allegedly infringing its patents related to "liquid water enhancers." Despite the fact that Heartland "is not registered to do business in Delaware, has no local presence in Delaware, has not entered into any supply contracts in Delaware or called on any accounts there to solicit sales," the District of Delaware claimed that it had personal jurisdiction over the case, denying Heartland's motion for a change of venue. Heartland later petitioned for a writ of mandamus with the Federal Circuit, which was also denied.
Now, the Supreme Court will decide whether or not a transfer to Indiana, Heartland's "home base," is necessary. Currently, East Texas serves as a popular venue for most plaintiffs, particularly patent trolls. In fact, nearly half of all patent lawsuits are filed in that venue, with the vast majority of that percentage brought by patent trolls.
This case will address the issue of patent venues after decades without change, essentially determining where patent lawsuits can be filed. While some are urging the Supreme Court to place limitations on where defendants can be sued in patent cases, others are hoping that the rules remain the same. As Justice Elena Kagan stated to TC Heartland during Monday's arguments, "Today's accidental theme is: When 30 years of practice goes against you, what happens?"