3D Technology Trends & Related Patents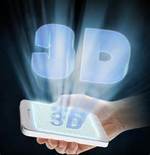 3D cameras are all the rage and, according to analysts, their popularity is only expected to rise over the next ten years. In a recent industry report, Research and Markets estimates the global 3D camera market to reach $64.5 billion by 2025, with a compound annual growth rate of about 47.8%. With applications in mobile devices, gaming systems, medical apparatuses and more, 3D cameras and related technologies are revolutionizing a number of industries. Here's a look at a few recent, related patents:
In 2015, Microsoft was issued a patent for a technology that could generate 3D models of objects in real life. The described method uses a 3D scanning software in conjunction with a static depth camera to create detailed, 3-dimensional scans and display them in real time. But the company's work reaches even further. A recently published patent reveals a new use for similar technology, this time in Microsoft's next generation home automation device featuring Cortana. Rumored to be more sophisticated than competing systems (like Amazon Echo) Microsoft's unique new device uses a combination of 3D cameras, projectors and audio intercoms to make in-home video conferencing possible anywhere, anytime.
When it comes to gaming and mobile devices, Apple seems to have 3D technology dialed in. The tech giant recently received a patent covering a 3D camera system, specifically related to 3D imaging and mapping. Not only could this technology lead to the application of new gesture controls and possibly even automatic facial recognition, but this could be Apple's ticket to completely revolutionizing the gaming industry. Rumors of the use of 3D scanners and cameras in the iPhone 8 have also surfaced, along with whispers of 3D selfies, and lock-screens featuring biometric facial scanners.
Last, but certainly not least, Intel recently filed a patent for a 3D camera system that could help parents better observe their children as they sleep. This unique infant monitoring system uses "a depth-sensing camera to detect abdomen rise and fall during an infant sleep period, or lack thereof, due to respiratory arrest," and may alert parents of such activity via smartphone, laptop, tablet, etc. The hope is that one day this technology could help to prevent cases of sudden infant death syndrome (SIDS), which currently affects over 2,000 babies in the U.S. each year.