Innovation, CCS & the Controversy Over Global Warming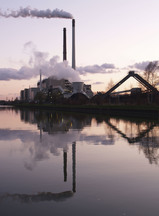 On February 16th, Former U.S. Vice President and Climate Reality Founder Chairman, Al Gore met with the American Public Health Association (APHA), The Climate Reality Project, Harvard Global Health Institute and several other organizations at the Climate Health Meeting in Atlanta, Georgia to discuss the effects of climate change on a global scale. NASA reported that 2016 was the hottest year on record, with astoundingly high global surface temperatures and significant declines in Arctic sea ice extent.
Though global warming has become a politically controversial topic for some, scientists remain steadfast in their fight against climate change, specifically discussing new and innovative technologies that could help reduce greenhouse gases- like Carbon Capture and Storage (CCS). This controversial method of reducing emissions from fossil fuels prevents the release of large quantities of CO2 into the atmosphere by collecting it, compressing it, and storing it deep underground. It may not be as idyllic as eliminating the need for fossil fuels altogether; however, many are starting to view CCS as a practical tool in the meantime.
In a series of trial projects throughout 2015, the Department of Energy successfully captured and stored 10 million metric tons of CO2. The DOE also contributed $190 million to Houston-based NRG Energy for the construction of the nation's first (and the world's largest) large-scale CO2 capture facility, Petra Nova, which was completed earlier this year.
According to the World Health Organization, climate change will account for roughly 250,000 additional deaths between 2030 and 2050 alone, as temperatures continue to rise. In a statement following the February Climate Health event, Gore noted that "Today we face a challenging political climate…with more and more hot days…we cannot afford to waste any time."