Patent Litigation Update: What's New in 2017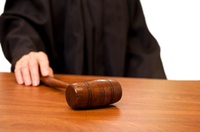 We're taking a look at some of this year's top patent lawsuits so far. Here's a roundup of a few of the cases currently making headlines: .
TC Heartland LLC v. Kraft Food Group Brands LLC is arguably one of the most highly anticipated cases of the year. It will essentially determine where patent lawsuits can be filed. Despite the fact that Heartland "is not registered to do business in Delaware, has no local presence in Delaware, has not entered into any supply contracts in Delaware or called on any accounts there to solicit sales," the District of Delaware claimed that it had personal jurisdiction over the case, denying Heartland's motion for a change of venue. Heartland later petitioned for a writ of mandamus with the Federal Circuit, which it was also denied. The Supreme Court is expected to hear arguments in March.
A district court in Texas recently ordered Google to pay $20 million in damages to Alfonso Cioffi and Allen Rozman, the owners of multiple anti-malware patents used in Google's Chrome browser. The ruling comes after nearly five years of litigation regarding Google Chrome's Sandbox feature, designed to protect computers from malware and other "security threats" and keep browser files safe and secure. The Supreme Court declined Google's appeal.
BlackBerry is suing Nokia, claiming that the Finnish company's mobile networking technology infringes on as many as 11 of its patents. The patents allegedly cover aspects of 3GPP, a mobile telecommunications standard, that were being used in some of Nokia's products like its Liquid Radio software and radio network controllers. Blackberry first acquired the patents from Nortel Networks back in 2011 and claims that it will license the patented technology "on fair and reasonable terms."
Earlier this month, Ancestry.com agreed to pay a $12.5 million settlement to DNA Genotek Inc. after the genealogy research website was accused of infringing Genotek's patents with its saliva DNA collection kits. Genotek's parent company, OraSure Technologies Inc, claims that Ancestry breached a non-disclosure agreement held between the two companies after it sold its saliva collection kits to the company back in 2012. Ancestry allegedly then filed applications for its own patents covering the same technology. The two currently seem to have come to a fair licensing agreement.
What cases have you had your eye on? Share with us, here.