Qualcomm Means Business, Pays Billions for NXP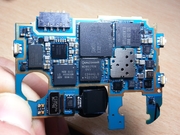 Qualcomm Inc. has officially announced its acquisition of NXP Semiconductor, the world's largest chip developer for automotive applications. In what is now the biggest deal the semiconductor industry has ever seen, Qualcomm will pay $39 billion for NXP, acquiring its operations in more than 25 countries and roughly 9,000 issued and pending patents.
The deal also puts Qualcomm at the head of the automotive semiconductor industry. The San Diego-based company was number twenty in the industry after acquiring CSR in 2015 and has already jumped to the number one spot.
Qualcomm's latest acquisition is expected to bring a combined total of over $30 billion in annual revenues, along with offering new opportunities for growth in other industries. While Qualcomm's initial success stems primarily from its core smartphone chip business, its new venture could open the door to developing chips for self-driving cars, infotainment and safety systems and much more.
In a recent press release, Qualcomm CEO Steve Mollenkopf stated that, "By joining Qualcomm's leading SoC capabilities and technology roadmap with NXP's leading industry sales channels and positions in automotive, security and IoT, we will be even better positioned to empower customers and consumers to realize all the benefits of the intelligently connected world."