Amazon Innovates Up in the Air with Drone Patents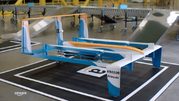 It may sound like science fiction, but Amazon's future drone delivery system is anything but. Over the last few years, the e-commerce giant has been working on the development of Prime Air, a system that uses a fleet of unmanned aerial vehicles to deliver packages weighing up to five pounds in just thirty minutes or less.
With development centers in the U.S., the U.K., Austria and Israel, and testing sites all over the world, Amazon is hoping to "increase the overall safety and efficiency of the transportation system." Just last year, the company patented a "Multi-use unmanned aerial vehicle docking station system," that would provide its drones with charging stations along delivery routes in places like "cell towers, light and power poles, church steeples, office buildings, parking decks and other vertical structures."
But Amazon isn't just experimenting with drone technology for delivering packages. In fact, its most recent patent for an "Unmanned Aerial Vehicle Assistant" describes the use of small, shoulder-mounted drones to support police during routine traffic stops. Equipped with a microphone and camera, along with voice-activation software, these drones could help officers assess a situation before getting directly involved.
Whether it's helping locate a lost or stolen vehicle, identifying a driver or missing person, following a suspect in a police investigation or simply recording an event, these drones could help keep civilians and officers alike safe. While it may be a while before we see these drones out on patrol, Amazon seems excited about the prospect of putting these innovative UAVs up in the air.
To learn more about Amazon's drone technology, click here.