Global Green Energy Innovation and Initiatives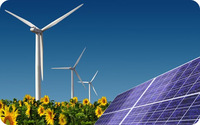 In 2013, the U.S. Energy Information Administration reported that fossil fuels accounted for roughly 80% of the energy consumed in the U.S, producing over 90% of the country's total carbon dioxide emissions. Last year, President Obama announced plans to help drive clean energy and cut energy waste, with a goal of doubling energy productivity by the year 2030. In turning to solar, hydropower and wind, the Obama administration hopes to address the issue of climate change, while improving energy efficiency and continuing to drive innovation, and they're not the only ones striving for change.
In 2015, Sweden reported that over 50% of its energy supply came from renewable sources, a great step towards achieving its goal of 100% renewable energy by 2040. The country also recently announced its renewed support for Uganda's development in green energy, contributing billions in UGX to the Renewable Energy Challenge Fund implemented by the UN Capital Development Fund. Currently, less than a quarter of Uganda's population has electricity, but with Sweden's help, the African country could provide more than 150,000 households with affordable energy by the year 2020.
Also in 2015, China surpassed Germany in solar capacity and was responsible for over ¼ of all global solar installations. By the year 2020, the country hopes to more than triple its solar power capacity to help reduce its carbon footprint, improve energy access and even combat poverty. The country currently has more than 70 million people living below the poverty line, a number that President Xi Jinping hopes to cut significantly in the next few years with his plan to install rooftop solar systems in lower income areas. This could help millions of households generate their own energy for consumption, while also giving them the opportunity to sell any excess energy back to the grid, earning extra income.
All over the world, greenhouse gas emissions continue to rise; in the last 150 years, CO2 levels have increased by about 40%. Not only would clean energy alternatives like solar, wind and hydropower help cut greenhouse gases significantly, but they could also help meet other global challenges such as poverty, job creation and more.