Tech Companies Get Back to (Augmented) Reality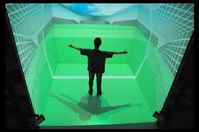 Apple's latest patent for "Augmented reality maps" could give future iPhone owners a better look at their surroundings. Filed back in 2010, the patent covers the complex technologies necessary to merge a person's real world position and AR location information. Using the camera on their mobile device, Apple map users could see the world in a new way, as live video feed of a person's location is overlapped with AR travel routes, location information, nearby points of interest and more.
Apple CEO Tim Cook has seemed pretty set on investing in AR since the rise of Pokémon Go earlier this year, and rumors have begun to circulate that Apple could incorporate AR features into upcoming iPhone models. The company has also been rumored to be working on an autonomous vehicle deemed Project Titan, which could feature augmented reality applications among others.
Google is also working on developing its own augmented reality applications and recently acquired Eyefluence, a company dedicated to the development of eye-interaction technology. Since its inception in 2013, Eyefluence has been developing and experimenting with technology related to eye-tracking behavior, and the collaboration could be just what Google needs to get ahead in the AR game.
Google has already introduced an augmented reality gaming and utility system, Tango, featured in the new Lenovo Phab 2 Pro smartphone. With this technology, users can bring virtual objects into the real world, from toys to furniture and much more, all using their smartphone camera.
Google has also already created a virtual reality headset, called Daydream View, that links with a corresponding smartphone and gives users the ability to experience things like life on Mars, the Great Pyramids of Egypt or traveling back in time to when the dinosaurs roamed the earth. Daydream uses Google apps like Photos and Movies in conjunction with the latest AR technology to create unforgettable virtual realities for its users.
Have you gotten to experiment with any AR/VR applications? Share your experiences with us here!