The Future of Footwear, Now in 3D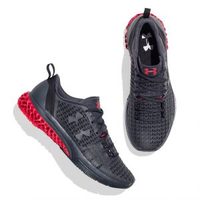 Sporting goods companies are more ambitious than ever when it comes to the future of performance footwear. Big names like Nike, Adidas, Under Armour and more are experimenting with unique prototypes, using a variety of advanced technologies to keep them one step ahead.
"The future of running is here," at least it is for the creative team at New Balance. The Boston-based footwear company recently released just over forty pairs of the Zante Generate, advertised to be the "world's first high performance running shoe with a full-length 3D printed midsole." Partnering with 3D systems, New Balance used selective laser sintering (SLS) to create a strong, flexible, honeycomb-like structure that would give athletes of all kinds the comfort and support they need to perform their best.
Adidas fans are also getting a glimpse of the future of footwear with the company's Futurecraft series. Unlike other 3D printed shoes being marketed, Adidas is using the technology to create a "flexible, fully breathable carbon copy of the athlete's own footprint, matching exact contours and pressure points…" Using a combination of 3D print technology and performance data, this innovative company is tailoring its footwear to the individual.
Despite these incredible advances, Under Armour seems to be leading the race after becoming the first to sell performance shoes with a 3D printed midsole. In March, a limited stock of the new UA Architech were listed on the company's website, selling out in 19 minutes at $299.99 a pair. In addition to having what Under Armour calls "the blueprint for infinite footwear innovation," the company is also opening up the UA Lighthouse, a manufacturing and design center filled with innovative technology like 3D printing and design, body scanning facilities, and much more.