Nest Hits Home with Innovative, Thoughtful Tech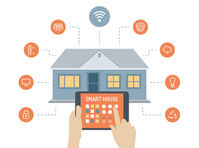 Since acquiring Nest for $3.2 billion back in 2014 Google, operating under parent company Alphabet, has been busy designing and developing products to help consumers build smarter homes. Whether it's with its popular thermostat, innovative smoke detector or patent-seeking smart crib, Google's Nest remains focused on "creating the thoughtful home: A home that takes care of the people inside it and the world around it."
Just recently, in partnership with SolarCity, the home automation company announced that it will be offering a new Time of Savings program to residents of Arizona, California and New York. SolarCity customers both new and old will now have the option to receive a Nest Learning Thermostat free of charge and participate in the different Time of Use (TOU) plans available in each area. Thermostats operating in the Time of Savings program are capable of adjusting within a few degrees to better coordinate with fluctuating energy prices, keeping user's comfortable for the lowest price possible.
Nest isn't just concerned with comfort, but is also working on promoting products to keep customers safe. One way it's doing so is with the Nest Protect smoke alarm and carbon monoxide detector. In a 2013-2014 field study, researchers revealed carbon monoxide as the leading cause of accidental deaths due to poisoning in North America, claiming that more than a million homes in the US report incidences of high carbon monoxide levels each year. The Nest Protect is designed to alert users of dangerous levels of carbon monoxide, while at the same time serving as a high-end smoke detector. Not only can the Nest Protect test itself automatically to ensure efficiency, but it can alert users of any potential dangers both verbally and via mobile device.
Nest also wants to help parents keep an eye on baby with its "smart" crib, according to a patent application filed back in 2014. Though it may not be a reality quite yet, this innovative sleep-space for little ones is designed using a number of different sensors and communication devices to help notify parents when their baby is awake, crying and much more. The crib's frame and mattress are both lined with a combination of motion, pressure, temperature and audio sensors to detect the slightest changes in an infant from illness to abnormal and regular sleep habits. Recent updates to the original patent filing have people wondering if this will be the company's fourth product to hit the market, but only time will tell.
To learn more about Nest, its partners and what else works with it, click here.