Friend or Foe? Companies Settle Up With Patent Rivals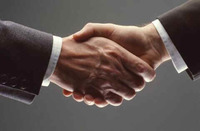 According to Unified Patents' 1st Half 2016 Patent Dispute Report, the numbers for litigation are down. Records show that the number of patent cases has decreased in the last half-year, totaling just over 2,000 from January-June 2016. The report also shows that PTAB filings have reached a steady level, while litigation dropped 26% compared to the first half of 2015. Here's a quick look at some of the cases that have most recently wrapped:
Apple and Mirror World Technologies, a subsidiary of Network-1 Technologies, recently settled a long-running patent dispute, finally putting an end to over five years of back and forth litigation. The patent in question, covering a document stream operating system, was first acquired by Network-1 with its purchase of Mirror Worlds back in 2013 and is credited to computer scientist and Yale professor, David Gelernter.
Accused of allegedly infringing on the patent with its Spotlight, Cover Flow and Time Machine apps, Apple will pay $25 million to settle the suit and will receive a non-exclusive license to the patent and others in Network-1's portfolio. This case follows Network-1's $4.6 million settlement with Microsoft last year involving the same patent.
Teva Pharmaceuticals USA and AstraZeneca Pharmaceuticals have also put aside their patent differences, ending litigation involving a number of AstraZenica-owned patents. Though exact details of the resolution remain confidential, the two companies will enter into a licensing agreement that will allow Teva to sell its generic version of AstraZenica's diabetes medication, BYETTA, beginning in October of next year.
Meanwhile, medical device companies NuVasive Inc. and Medtronic are putting an end to nearly eight years of patent lawsuits with what NuVasive calls a, "mutually agreeable settlement." The San Diego-based company will make a one-time payment to Medtronic totaling $45 million which will include certain licenses as well as a detailed "dispute resolution process" designed to help the two address any potential patent conflict in the future.
Have a case that you've been following? Share the details with us here.