Patents & Technology Behind Popular Pokémon Go Game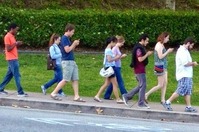 Nintendo's Pokémon Go is taking the world by storm with more than 20 million downloads since its release last week. People in over 26 countries are now playing the location-based game, capturing and training Pokémon creatures as they appear throughout the real world. As a result, Nintendo shares have risen 50%, though analysts predict that the game won't be a huge money maker for the video game company.
The game uses a combination of GPS and augmented reality technologies to bring Pokémon characters into the real world. EnvisionIP recently took a look at Nintendo's patent portfolio, finding over 100 patents related to the technology behind the popular game. Some of these include technology such as, "three-dimensional data processing, displaying immersive scenes, creating virtual spaces, motion and movement sensors for portable devices, eye-tracking, and visual data overlays."
This weekend servers are down, leaving millions of gamers frustrated and forced to resume their normal lives, free of their favorite Pokémon. It's not the first time the game's experienced technical difficulties, either. Shortly after launching, Pokémon Go players were unable to sign-in due to server instability and an overwhelming demand for the game.
In the future, gamers may be seeing much more of the augmented reality tech, as more companies begin to focus on merging the virtual and real worlds. They can also expect to see more of Pokémon, as the Pokémon Company and Nintendo announced a number of new characters that are set to appear in the upcoming Pokémon Sun and Pokémon Moon video games launching this November.