Auto Patents, Technology & Innovation on the Road Ahead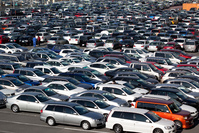 From electric cars and new transportation systems to autonomous vehicles of the future, the auto industry is full of interesting patents and innovations.
Earlier this year, Ford filed a patent for an "autonomous vehicle entertainment system" that could essentially transform a person's self-driving car into a private, portable movie theater. The system is designed to "present media content on a first display while the vehicle is operating in the autonomous mode," by projecting images onto a driver's dashboard and windshield, gauge-cluster or rearview mirror. The patent describes that "Instead of concentrating on numerous driving-related responsibilities," occupants would be able to kick back, relax and enjoy their favorite show.
Google also recently filed a unique patent related to autonomous vehicles, this one to help protect pedestrians should they ever get hit. The patent outlines the use of an adhesive coating to help bind a pedestrian to the front of a self-driving car in the event of a collision, keeping them safe until the car can slow to a complete stop. Though it may seem an odd safety feature, the idea is to help prevent further injury to people being bounced off the hood or potentially being hit a second time.
In an effort to help the "transit disadvantaged," Uber is piloting a new program in Florida that allows users to request a ride the old fashioned way- by simply calling for one. Those even without a smartphone will now be able to take advantage of the company's dispatch service and call for a car to pick them up, no app necessary. Uber is also offering one subsidized ride per month for just $3 to qualifying individuals which is to be used in situations deemed "urgent" by a dispatcher, such as doctor visits and grocery store runs.
Meanwhile, Tesla is set to open a new gallery at the Nordstrom in popular Los Angeles mall, The Grove. Located in the men's department, the 400-square-foot gallery will feature the company's Model X SUV. Shoppers will have the option to mix and match different interiors and trims and could even take the electric vehicle for a test spin right there on-site. The partnership with the prestigious department store is potentially the first of many for the auto-manufacturer as it continues to search for new and innovative ways to market its vehicles.