White House Honors Science, Technology & Innovation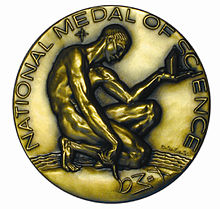 On May 19th, President Obama awarded the National Medal of Science and the National Medal of Technology and Innovation to 17 astonishing individuals in this year's ceremony held at the White House.
Since Theodore Von Karman won the first National Medal of Science in 1961 for his work in engineering, this prestigious award has been given each year to the nation's leading innovators in fields such as engineering, biology, chemistry, physics and many more. The National Medal of Technology and Innovation, created by statute in 1980, has also become one of the Nation's highest honors awarded each year by the U.S. Department of Commerce's Patent and Trademark Office.
In 1961, Von Karman was honored for his research in flight, and his help in establishing what we now know as NASA's Jet Propulsion Laboratory. This year, the National Medal of Science went to individuals like Dr. Stanley Falkow, for his work in molecular microbial pathogenesis and research in antibiotic resistance; And Dr. Mary-Claire King, for her work in genetics and human rights and discovery of the BRCA1 breast cancer gene.
The National Medal of Technology and Innovation was awarded to individuals like Dr. Robert Fischell for his work in health and medicine and the invention of several new medical devices used in treatments around the world; And Dr. Jonathan Rothberg for his work in genetics and help making DNA sequencing technologies more available and cost-effective across the globe.
At the ceremony, President Obama noted that, "The real reason we do this, as I've said before, is to teach our young people that it's not just the winner of the Super Bowl or the NCAA tournament that deserves a celebration…immersing young people in science, math, engineering — that's what's going to carry the American spirit of innovation through the 21st century and beyond."
To view the full list of this year's recipients,

click here.