The Rising STAR of Robotic Surgery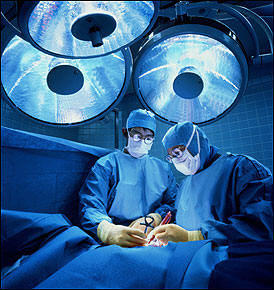 Children's National Medical Center (CNMC) is making history with its most recent study involving the first autonomous robotic soft tissue surgery.
Published in Science Translational Medicine, the study concluded earlier this month after a Smart Tissue Autonomous Robot (STAR) successfully performed intestinal anastomosis, reconnecting and suturing a pig's bowel in open surgery. Results from the surgery were compared with those from manual, laparoscopic and robotically-assisted surgeries for quality and accuracy, and STAR surpassed them all.
The live pigs undergoing the procedure pulled through with no complications following.Though the STAR procedure took longer than the manual surgery (about 30 minutes), it was comparable to laparoscopic methods and proved to be more precise in areas like suture spacing, among others.
Created by a team of scientists at CNMC's Sheikh Zayed Institute for Pediatric Surgical Innovation, STAR is comprised of a robotic arm and multiple surgical tools, equipped with imaging features and multiple sensors that help it navigate specific areas of the body. Performing soft tissue surgeries manually requires constant adjustment, as this type of tissue can be unpredictable in its movements; However, STAR is designed with these difficulties in mind. The device uses a unique tracking system to generate 3-D images of a targeted area, while an advanced algorithm "guides the surgical plan. . ." allowing for "accurate, uninhibited tracking of tissue motion and change throughout the surgical procedure."
With millions of soft-tissue surgeries taking place in the U.S. each year, robotics are becoming a more frequent addition to operating rooms everywhere. In a recent press release, Peter Kim, associate surgeon in chief and project lead on STAR, stated that, "This is not to replace surgeons tomorrow but provide collective experiences of how things should be done."
So far, scientists and surgeons alike seem to see a bright future for the STAR technology. To learn more about it, click here.