The Technology & Innovation Behind One World Trade Center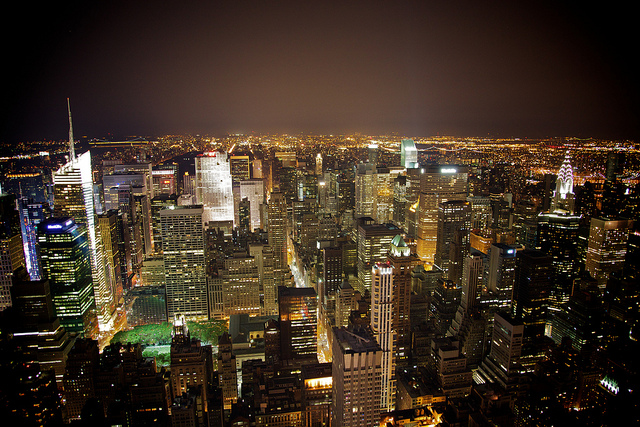 The observation deck of the One World Trade Center is set to open to the public this week, and visitors are in for quite the experience. The 104 story structure sits in the center of the historic ground zero site, completing the New York City skyline as America's tallest building. A $4 billion project, the center features incredible 360 degree views of the city and uses the latest technology to create an unforgettable experience for all who visit. Here's just a brief look at the technology behind it:
Once inside, guests will encounter wall-to-wall screens displaying customized information based on their cultural backgrounds and preferred languages. The elevators (Sky Pods), designed to reach top viewing floors in less than a minute, feature floor-to-ceiling LED displays that take visitors on a ride through New York City's history, dating all the way back to the 1500s.
Once at the top, in the See Forever Theater, guests will be presented with a two-minute video highlighting life in the Big Apple. Afterwards, the window-sized screens will rise, finally giving way to the amazing view of the New York City skyline.
The Main Observatory will also feature an interactive "concierge" called City Pulse, to help connect visitors with the area. Global ambassadors stationed throughout the space will use HD video monitors equipped with gesture recognition technology to provide guests with images and information, along with personalized recommendations. At the same time, visitors will have the option to step into the floor's Sky Portal, a 14-foot circular disc offering real-time, high-definition video of the streets below.

Standing 400-feet higher than the original Twin Towers, One World Trade Center is full of incredible technological details that help to offer an emotional, awe-inspiring experience people won't want to miss.
In a recent press release, Chairman and chief Executive Officer of Legends David Checketts said, "From sweeping panoramic views, to innovative interactive exhibits, to world-class dining options, we expect One World Observatory to be the premier destination and attraction in New York City for both tourists and local residents." For more information, click here.