The Gloves Are Off: Tech Giants Continue to Battle over Patents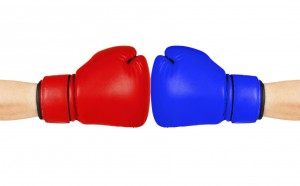 Patent litigation in the tech industry continues to surge, costing companies millions of dollars in legal fees. Here are a couple of the bigger battles that are making headlines:
Cox Communications recently took its patent battle with ATT to the next level, filing a countersuit against the other telecommunications company earlier this month. ATT was first to sue back in August, after claiming that Cox had infringed on several of its patents related to DVR and digital telephone technologies. Rather than work out a licensing deal, however, Cox struck back alleging that ATT's U-Verse technology currently infringes on three of the company's patents.
The patents under review include: "
Method and System for Multicast Using Multiple Transport Streams," "Generating a personalized video mosaic in a cable services network," and "Access system and method for providing interactive access to an information source through a television distribution system." It's not yet clear how much Cox is seeking with the countersuit, but the case is being reviewed and any damages will be decided by the court.
The long winded battle between Apple and Samsung also continues after the US Court of Appeals overturned part of an earlier verdict in the patent infringement case. Dating back to 2012, the case opened when Apple claimed Samsung had infringed on several patents related to the iPhone's design.
After a jury awarded Apple more than $900 million in damages, Samsung filed an appeal claiming that the amount owed was "excessive and unprecedented." Now, the Court will reconsider the damages after finding the awards for infringement of "trade dresses," or the overall look and feel of the product, to be unfounded. These particular awards amount to nearly 40% of all damages.