A Real Brief History of Fake Trees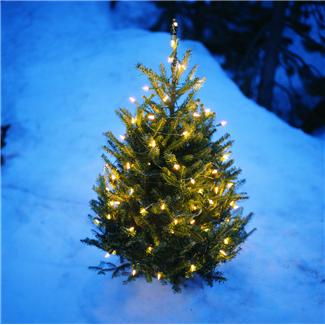 This winter, more than 80% of U.S. homes have decked the halls and put up a tree in celebration of Christmas. Each year, over 17 million real trees are harvested from the more than 15,000 tree farms across the country to be decorated, displayed, and recycled after the holiday. Traditionally, the branches of evergreen fir trees were used to decorate the homes of pagan and Christian families during the winter solstice, as it reminded them of the Spring ahead.
Today, artificial trees are becoming more and more popular. First appearing in the late 1800s, artificial trees (originally from Germany) were once made of metal wire and green-dyed goose feathers. After receiving a patent in 1882, artificial trees became a new way to celebrate the season, finally making it into the Sears catalog in 1918.

By 1986, 35% of U.S. homes had an artificial tree come Christmas time. Since then, sales have continued to increase, with the Census Bureau reporting an estimated $137 million worth of artificial trees shipped to the U.S. from China at the beginning of 2014.
These trees don't just stand alone, however, but are adorned with ornaments and lights of all colors. Thomas Edison is responsible for the first "twinkling Christmas lamps," which he created shortly after receiving a patent for the light bulb in 1879; in 1882 Edward Johnson created the first string of electric lights, illuminating a tree in New York with eighty small electric light bulbs. It might seem small in comparison with Rockefeller Center's 85-foot tree glowing with over 45,000 LED lights, but it was a pretty amazing thing at the time.