FIFA World Cup Premiers New Goal Line Technology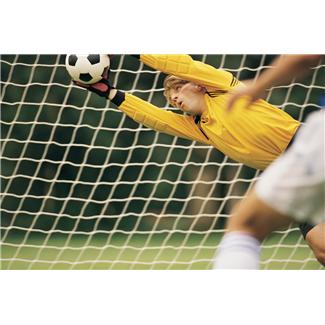 After years of controversial goal calls, FIFA has finally implemented Goal Line Technology into the World Cup. The GoalControl 4D system consists of 14 high-speed cameras set up around the playing field, with seven cameras focused on each goal post. Each camera is connected to a central image processing system which continuously tracks ball movement and captures the images in the 3D.
When the ball crosses the goal line at any point during a game, a vibrating signal is sent to the referees' watches notifying them within a second that a point has been scored. The images stored within the processing system can then be used to review the play, giving both officials and fans a chance to see the event from all seven angles.
In a press release early last year, GoalControl announced that, "After successfully passing all tests at the Esprit-Arena in Düsseldorf and the Veltins-Arena Gelsenkirchen in January and February 2013, FIFA and GoalControl signed the License Agreement for Goal-line Technology."
The system was really put to the test a couple of weeks ago during the French vs Honduras match-up. French forward Karim Benzema's shot hit the post before bouncing off goalkeeper Noel Valladares and crossing over the goal line, though it was unclear whether or not the ball was really in. Just seconds after it occurred, however, the referee signaled that it was a goal. GoalControl technology filled the gap between what the referees on the field could see and the regular TV replays captured, providing clear and accurate detail of the ball's movement millisecond by millisecond.
An entry on the FIFA website indicates the organizations enthusiasm for the new technology. Head of Refereeing Massimo Busacca stated that, "Goal-line technology will be a very big help. We have to remember it's to see if it's a goal or no goal, not other situations, but it will be in my opinion a really good support."