Lex Machina Reports on 2013 Patent Litigation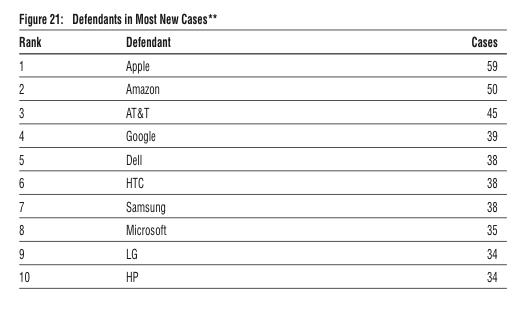 Intellectual property data and analytics firm, Lex Machina, recently released its 2013 report on patent litigation in the U.S, and the number of lawsuits is higher than ever. The report shows a 12.4% increase in litigation from roughly 5,400 cases in 2012 to just over 6,000 in 2013, and that number is expected to continue to climb in 2014.
It's not surprising that the companies responsible for the most patent lawsuits appear to be "patent monetization entities," while large tech companies like Apple, Amazon, and ATT seem to be taking the brunt of the litigation.
In a recent interview with Bloomberg Businessweek, Chief Evangelist and General Counsel at Lex Machina, Owen Byrd, stated that "The patent litigation environment continues to be active and at times unpredictable. There is still growth in patent litigation and clearly a measurable percentage of that growth comes from so-called patent monetization entities."
The report also offers some interesting insight into the districts, law firms and judges involved in these patent suits. While the data shows a 20% decrease in the number of cases filed in the Central District of California, it also shows the number of cases filed in the Eastern District of Texas has increased by that same percent. In fact, Judge Rodney Gilstrap of the Eastern District of Texas was reportedly assigned over 900 new cases in 2013 alone.
Lex Machina CEO, Josh Becker, points out that the report is a great source of reliable and unbiased data regarding patent litigation in the United States, and notes that "It's critical for lawyers to make sense of the major trends in this space in order to be successful in their own suits."