Buckle Up! Ford Gets Ready to License Inflatable Seat Belt Technology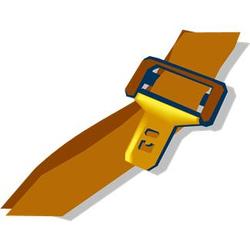 In a continuing effort to enhance vehicle safety industry-wide, Ford is looking to license its patented inflatable seat belt technology. Created with the hope of increasing rear-passenger safety, the new belts are designed to look and feel like their conventional counterparts, only inflating in the event of a crash.
When impact is detected using the vehicle's crash-sensing system, a tubular airbag on the seat belt rapidly inflates, filling the belt with cold compressed gas from a cylinder located beneath the seat. In doing so, "the inflated belt helps distribute crash force energy across five times more of the occupant's body than a traditional belt."
The use of a traditional seat belt has been proven to reduce serious crash-related injuries and deaths by roughly 50% and reduce fatalities for rear-passengers of vans or SUVs by over 70%. Ford hopes to help improve those statistics even more, stating that "the wider adoption of inflatable safety belts has the potential to make travel safer and help mitigate passenger injuries – especially among children and the elderly."
The company has also purchased additional inflatable seat belt patents from United Technologies Corp and will add its inflatable seat belt to its list of patented technologies available for license to all companies, along with its driver alert warning system, "surveillance mode" technology, and its roll stability control.
Currently available on the Ford Explorer, Flex and Fusion, the inflatable seat belts will also come stocked in the upcoming 2015 F-150, Lincoln MKT and MKZ. The company has also suggested the potential use of this technology in military operations, water travel and helicopter or other air travel.
Get even more details on Ford's new inflatable seat belts by clicking here.