Strange Patents that Help Relieve Stress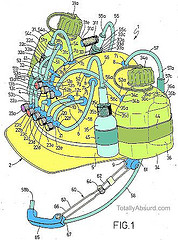 For those times when things get to be too much at home, or when you're feeling completely overwhelmed at the office, there are patents that were designed specifically to help you feel better. Granted, these stress-relieving inventions are a little on the strange side, so we'll leave it to you whether or not they're worthy of a test run.
Patent 5,195,917 for a Tear-Apart Stress Relief Doll and Method may be the most mild of these inventions. A doll representing a person causing stress, like a sports ref, has parts easily attached and torn apart by Velcro. Football ref make a bad call? Just tear his head off. After you've literally torn your doll to pieces, stick it back together and repeat.
You've probably seen before the goofy, beer holding hat with a drinking tube attached, but this patent takes that design to a whole new level. The Helmet Bar is equipped with a number of different tubes that make it possible for a user to choose from a variety of mixed drinks. In order to understand how this one works, however, you'll have to figure it out for yourself:
To drink from the first soft drink container only, a user would open the valves in the first and fourth ports 12a, 12b on the first gang valve 10 and the fifth and tenth ports 22a, 22f on the second gang valve 20 and suck on the free end 58b of the eighth tube 58. Soft drink from the first drink container 31 would flow out of the container 31, through the first tube 51, into the first port 12a and the first mixing chamber 11 of the first gang valve 10, out of the fourth port 12d of the first gang valve, through the third tube 53 into and out of the hat 2 and into the fifth port 22a and second mixing chamber 21 of the second gang valve 20, out of the tenth port 22f of the second gang valve 20, and through the eighth tube 58 to the user's mouth.
A good power nap can also work wonders on our mood. What better way to get a few Zzz's than with a good pair of Hammock Pants? Unfasten the front and back of your pants and open each leg flat and then reattach then to form a flat surface. A pair of rods can then be inserted into the sleeves, some straps can be unfolded, and you can hang your hammock between a couple of trees. Although, you might want to have a second pair of pants on hand.
And if after all of that you're still feeling stressed, try giving yourself an Instant Face Lift with this do-it-yourself patent. "It's easy and fun to apply the anchor band # A to your scalp by parting your hair and squeezing on some surgical adhesive. Next, glue tabs 3 and 4 to areas that need a little extra stretch and pull the tensioned straps tight for that home-made lifted look."