This Week: 2012 National Trademark Expo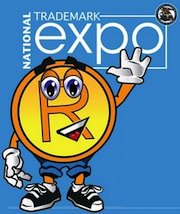 The USPTO is gearing up for this year's National Trademark Expo to be held on October 19 and 20th at USPTO headquarters in Virginia. Every year, this two day event takes place in order to showcase the value of brand names and trademarks in an increasingly competitive world-wide marketplace. It's an opportunity for companies to display their brands to the public, and for the public to learn all about the role that trademarks play in our society.
Over 15,000 attended last year's free event, and more are expected to attend again this year.
Themed displays, costumed characters and children's workshops are just a few of the features of this year's expo. Exhibitors like 5-hour Energy, GEICO, NASCAR Inc. and the United States Air Force will be present along with dozens of other well-known brands in order to showcase their federally-registered trademarks.
Kids will love having the opportunity to meet their favorite characters, like Barbie, Bob the Builder and Clifford the Big Red Dog. They'll also have the chance to participate in fun workshops to learn the basics about trademarks and sit down for story time with Hooray for Books! Adults will love checking out the different display cases featuring counterfeit vs. authentic goods, along with the National Inventors Hall of Fame Museum exhibit.
Everyone has the opportunity to join the community in participating in educational seminars such as "What Every Small Business Must Know about Intellectual Property" and "Common Mistakes to Avoid When Filing for Trademark Registration." With 12 different seminars to choose from, you're sure to find one that catches your interest.
Don't miss out on this once a year event! For more information, head over to http://www.uspto.gov.