Cookie Time Patent: "Most Nutritionally Balanced Food in the World"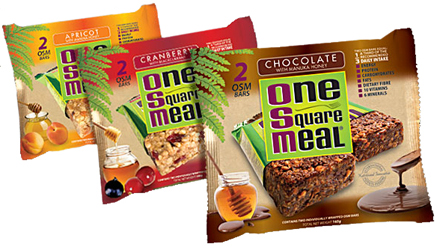 New Zealand – based company Cookie Time recently received a patent for its One Square Meal bar, a nutrient rich food bar providing exactly one-third of the average adult's recommended daily intake of protein, energy, carbohydrates and more.
It's essentially a replacement meal in portable format, perfect for substituting breakfast, lunch or even dinner. In addition to providing one-third of a person's daily nutritional requirements, One Square Meal is also packed with ten vitamins and six minerals and is made with all natural ingredients like Manuka honey, dried berries, and rolled oats.
Best known for its Chocolate Chunk cookies, Cookie Time's recent leap into nutritionally balanced food and beverage has paid off. After five years working through the patent system, the privately owned company now holds the sole rights to sell food "perfectly apportioned" from the RDI for the next 20 years.
Developing a nutritionally balanced meal bar that also tasted good, though, was hard work for the 29-year-old company. Cookie Time's General Manager, Lincoln Booth, stated, "It took years to 'crack the code' and achieve a great tasting product which has precisely the same daily value of all macro and micro nutrients. But now that it's been done with three flavors of bars made from wholesome ingredients, we are confident that we can apply the insights across other food categories – beverages, breakfast cereal, even baby food."
The Cookie Time team was determined to create a convenient food that was nutritious and delicious so that busy families and individuals wouldn't have to sacrifice health for simplicity. One Square Meal was developed to act as a balanced and nutrient-rich alternative to any sit-down meal.
Now, it seems only a matter of time before the Cookie Time Company goes international, with One Square Meal bringing home a trio of awards, including the Institute of Food Science and Technology Research and Development award in 2006. General Manager Booth says, "It's a revolutionary approach to start with recommended daily intakes and then design a specific food to deliver to these…We now have ownership of a novel, yet universal food and beverage proposition that no one else can touch."