Television Innovation – The International Consumer Electronics Show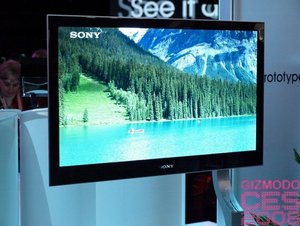 When it comes to the International Consumer Electronics Show, TVs are big news. In 1998, the HDTV was premiered only break into the mainstream about five years later. In 2009, the CES previewed the 3D TV, though it has yet to catch on with the majority of consumers. This year, the biggest buzz has surrounded an even newer model. This past Monday, LG Electronics introduced the worlds thinnest, largest and lightest 55-inch OLED TV.
OLED (organic light-emitting diodes) screens (rather than the current plasma, or liquid crystals) produce a clear, crisp picture with deep saturated colors. Some newer smart-phone models use the technology, but it has yet to be used to manufacture larger screens. Could this be the next incredible thing that tempts consumers to ditch their recently purchased plasmas for something even more high-end?
Samsung also revealed its version of the 55-inch OLED that same day, stating that it is the ultimate in picture quality. Expected to be priced at around $8,000, both companies say that their sets will reach the mainstream market sometime this year.
As if that isnt enough, some companies are even working on voice and movement controlled TV technologies. Say goodbye to the remote control, you may be manipulating your television set with voice commands or certain gestures.
Also, if you cant go through a thirty minute program without checking your Facebook status, worry no more! Studies show that most people watch TV with their phone within reach allowing them to chat or update friends on what theyre watching. Its possible that in the near future, youll have the option of checking social-network updates on your TV. Panasonic is even working on a split-screen feature that lets you Skype and chat while watching a program.
You may be satisfied for the time being, but dont get too attached to your plasma screen. If the CES is just a small preview of whats to come in the following year or two, there are some amazing technologies just on the horizon.