New Patent Makes Sun Protection EZ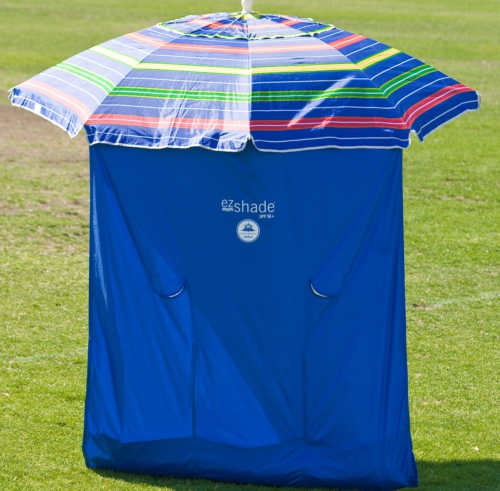 Recently, Solar Eclipz, a San Marino based small business, received a patent for the ezShade, a portable sun shield designed to help reduce the risk of cancer. Made from a lightweight UPF 50+ fabric, this special shade blocks over 99% of cancer causing UVA and UVB rays and instantly attaches to any portable umbrella or canopy.
Solar Eclipz owner and ezShade designer Linda Varga came up with concept while constantly catching too much sun at her familys sporting events. Varga recognized that her traditional portable umbrella only blocked direct UV rays and could offer only so much shade. Her solution was to create a vertical panel that easily attaches to an umbrella or canopy and provides consistent shade while blocking reflected UV rays.
Even while sitting in the shade of a traditional umbrella, 1/3 of reflected UV rays that cause cancer can still reach your skin. The ezShade blocks these dangerous rays and keeps you cooler with twice as much shade as a normal canopy. Multiple shades can even be used to create a portable privacy enclosure.
They weigh less than 9 ounces, and come equipped with hook and loop fasteners for easy height adjustment. Simply attach the ezShade using the included peel and stick strips, for added protection in a matter of seconds. When youre ready to pack up and get going, the ezShade can be conveniently rolled and stored/transported in its matching tote.
Now, officially patented and endorsed by the Melanoma International Foundation, the ezShade is one of a kind. Sold at stores like Sport Chalet, Toys R Us, and Cabelas, this unique shade provides an easy, safe way to enjoy the outdoors.