National Medal of Technology and Innovation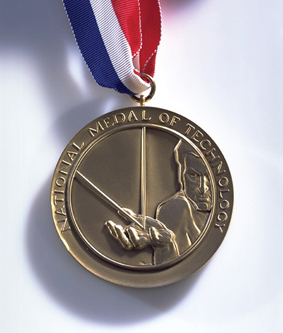 Recently, President Obama named the five inventors that will receive the National Medal of Technology and Innovation later this year. The award recognizes those who have made lasting contributions toAmericas competitiveness and quality of life and helped strengthen the nations technological workforce. The current recipients include:
Yvonne C. Brill, for innovation in rocket propulsion systems for low earth orbit communication satellites.
C. Donald Bateman, for developing flight-safety sensors now used by aircraft worlwide.
Rakesh Agrawal, for innovations in improving energy efficiency and reducing the cost of gas liquefaction and separation.
B. Jayant Baliga, for developing power semiconductor devices used in transportation, lighting, medicine, renewable energy generation systems, and defense.
Michael F. Tompsett, for work in materials and electronic technologies.
The National Medal of Technology and Innovation was created in 1980 and is administered for the White House by the USPTO. Past winners include Steven Sasson (inventor of the digital camera), David N. Cutler (from the Microsoft Corporation), and Ray M. Dolby (improvements in sound recording and reproduction), among many others.
Its an honor to receive the award, as President Obama states that, Each of these extraordinary scientists, engineers, and inventors is guided by a passion for innovation, a fearlessness even as they explore the very frontiers of human knowledge, and a desire to make the world a better place.