Diet, Exercise, and… Patents?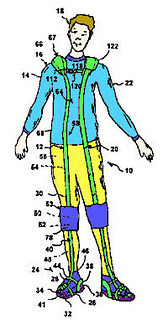 There are a lot of ways to get into shape these days: cosmetic surgery, exercise, dieting. Sometimes, though, even popping pills is too much work. And why bother when youve got these extremely out-there patents to help your figure?
If your trouble is keeping away from food, consider this Hannibal Lecter-like device. The Anti-eating Face Mask was patented in 1982 and is worn on the users head over the mouth. Its a face mask that will prevent the ingestion of food without interfering with breathing and speech.
Perhaps youd rather just eat a little healthier. Well, luckily there is a patent for the Tomato Raisin out there somewhere. The method involves removing the skin from a grape tomato and drying the grape tomato to produce a tomato raisin. Simple, right?
No more excuses, either, about smashed bananas in your lunch box. The Banana Protective Device was designed in 2003 to aid in the careful storing and transporting of bananas everywhere!
When it comes to getting in shape, though, exercise is also an important factor. Whether you have time to go to the gym or not doesnt matter to the Bionic Exersuit. This miracle suit attaches to your legs, shoulders, feet, and everything else and provides resistance to any and all body movements. Youll get your workout in just by breathing.
If youre still lacking the motivation to get fit, consider giving up all together and investing in the Wonder Butt Bra. A device made to lift, support and shape a person's buttocks similar to the under-wire bra that is a fairly common undergarment for women today. Dont worry, it fits all sizes!