Patents Light Up the Sky!!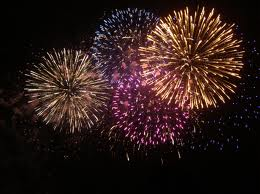 I just got back from an amazing trip to Lake Havasu City, AZ where the Western Pyrotechnics Association puts on their annual Winter Blast Convention. Which means 20+ hours over four days of the best fireworks youve ever seen. The attendees were showing off their best and newest pyrotechnics. The sky lit up with hearts, cactus, 3D boxes, apples, pears and circles in the most amazing colors.
One of the coolest fireworks of the night was one that seemed to hover in the sky instead of the typical rapid falling. I performed a patent search to see how this might work. Patent 3,502,023 uses a parachute attached to the pyrotechnic device to slow its descent. Such a simple concept with a huge impact.
While browsing the patents I noticed that there were many filed by The Walt Disney Company. Upon closer examination I read one that shows a firework display in the pattern of the mouse ears. Maybe my next fireworks trip should be to Disneyland.
– S.M.