Marriage Proposal Patent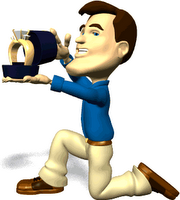 OK. It's the day after Valentine's Day. You had a nice romantic evening with the special someone in your life. You exchanged gifts, shared some wine, had a nice dinner out, and cuddled up with a nice romantic comedy movie. But it's over now. You sealed things at the end of the evening with a nice kiss. If the kiss was especially wonderful, you may have even submitted a patent for the kiss (see yesterday's blog post). How romantic. But now what?
Well, if the day went really well yesterday, you may want to consider proposing marriage today. I recently got engaged to the woman I love. I just wish I'd known how to pop the question better. Enter US Classification 705001000:
http://tinyurl.com/4gsqxlp
Apparently this is the most effective and efficient way to pop the question. Who knew?
Thank goodness I instead chose to ask for my woman's hand in marriage while basking in the glow of a warm firepit, sipping wine and gazing up at the stars. By doing it this way, I may have run a greater risk of receiving a reply of "No" than if I had followed a patented method. Nonetheless, it appears that I have successfully avoided future infringement litigation issues by not stepping on prior art for my method of proposal. Unless, of course, one of you have previously proposed while sipping wine in front of a fire, gazing up at the stars. Nah. I'm sure it was a most unique event. She told me so.