Innovation & Opportunity at Arizona's "New American University"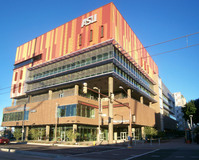 Arizona State University is no stranger to innovation. In 2015, the University ranked number one on the U.S. News World Report's list of the most innovative schools, celebrating a record-breaking year in patents in 2016. Shortly after, the University was designated an Innovation and Economic Prosperity University by the Association of Public and Land-Grant Universities (APLU) for "recognition of its strong commitment to economic engagement," and has since taken every opportunity to contribute to the growth and development of businesses and entrepreneurs of all ages.
One of the University's key contributions to economic growth and development is the SkySong Innovation Center located in Scottsdale, which will host this year's semi-finals of the ASU Innovation Open in December. In collaboration with Phoenix-based global tech distributer, Avnet, ASU will give one innovative student the chance to win $100,000 and the opportunity to bring their products or services to market quickly and efficiently. Applications for the ASUio will be accepted through October for college-aged entrepreneurs, but students aren't the only ones innovating at ASU.
Assistant Professor Laura Hosman was recently recognized for her development of a unique, solar-powered digital library. SolarSPELL is a portable, sun-powered device designed to operate without the presence of internet or even electricity. Hosman was awarded the PLuS Alliance Prize for Education Innovation on September 3rd, an award recognizing education and research innovation that has the potential to help global communities overcome some of their biggest challenges. Thanks to Hosman and her team, off-grid communities world-wide can now have access to educational resources and technologies that would not otherwise be available.
A report detailing the University's accomplishment's reads, "In 2002, Arizona State University initiated its transformation into a revolutionary model for higher education: the New American University. Six years later, Newsweek hailed ASU's transformation as "one of the most radical redesigns in higher learning since the modern research university took shape." In 2014, that New American University blueprint officially became the ASU Charter."
To learn more about innovation at ASU, click here.