Canadian Supreme Court Stands Firm in "Bombshell" Decisions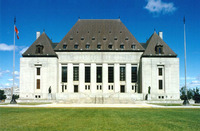 Canada's Supreme Court is attracting a lot of attention in recent months, following a couple of "bombshell" decisions related to intellectual property and other rights.
Last week, the Canadian Supreme Court ruled in favor of the popular drug company AstraZeneca, dismissing the "Promise Doctrine" policy previously used in Canada to overturn patents. The Promise Doctrine, first instituted back in 2005, required pharmaceutical companies to essentially predict the use of a patented drug at the time of filing. If the patented drug should fall short of adhering to all applications described in the patent, that patent could potentially be invalidated completely.
After AstraZeneca first accused generic drug maker Apotex Inc, for infringing on one of its patents related to "the optically pure salts of esomeprazole," Apotex moved to have the patent invalidated for lack of utility under the Promise Doctrine. The Federal Court of Appeals agreed with the generic drug maker, invalidating AstraZeneca's patent. AstraZeneca then appealed the decision, stating that its patent was improperly invalidated. The Canadian Supreme Court agreed.
Also last week, the Canadian Supreme Court upheld a decision granting an injunction ordering Google to stop displaying global search results for certain websites related to Datalink Technology Gateways. Datalink was accused of relabeling products originally created by technology company Equustek and selling them as its own. Per Datalink's initial request, Google voluntarily removed more than 300 websites associated with Datalink from the Canadian version of its search engine.
Meanwhile, a British Columbia court ruled in favor of Equustek, after Datalink failed to appear in court, granting an injunction ordering Google to remove the websites in question from not just its Canadian version of the search engine, but all others as well. Google appealed the decision in the Canadian Supreme Court, arguing that freedom of expression should prevent the websites from being removed from its global search index, but the Canadian Supreme Court disagreed, upholding the original decision.
What do you think of the Canadian Supreme Court's most recent decisions? Share with us in the comments.