Bank of America Cuts Carbon with Innovative Initiative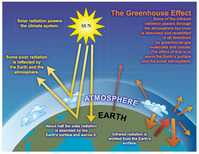 Business is booming for Bank of America, and CEO Brian Moynihan and other top executives are putting their "financial capital…intellectual capital, and…partnerships to work to help create a better future for all of us." Now one of the world's largest financial institutions, Bank of America is taking the necessary steps to cut its carbon footprint in half.
According to the Environmental Protection Agency (EPA), carbon dioxide accounts for nearly 75% of global greenhouse gas emissions, and a recent study points out that the rate of carbon emissions is higher now than in the last 66 million years. Recognizing the impact of carbon and other greenhouse gas emissions on the environment and the global population's health, organizations in all industries are dedicating more time and money to these important issues.
Since it first launched its environmental business initiative to help address climate change back in 2007, Bank of America has provided billions in financing for low-carbon activities and has recently committed to $125 billion in financing for sustainable and low-carbon business by 2025. In the last half-decade, the bank has lowered its greenhouse gas emissions by over 30 percent with energy efficient projects like lighting upgrades throughout its hundreds of financial centers, and hopes to decrease its energy use by 40% by 2020.
Bank of America has also joined the U.S. Department of Energy's "Workplace Charging Challenge" and was one of the first to join the White House's American Business Act on Climate Pledge. In an article published this May, Vice Chairman of Bank of America, Anne Finucane, writes, "We view this issue as a global and economic imperative. There is no better example of responsible growth than when we can help address significant global issues by investing in jobs and infrastructure across the globe, while also seeing a business return."