Pharma Patents & The Battle of Brand V. Generic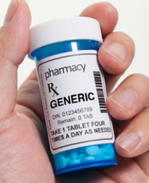 With a number of big brand-name drugs slated to lose patents this year, generic manufacturers are eager to push their products to market… And consumers are just as eager to get their hands on them.
According to the U.S. Department of Health Human Services, U.S. prescription drug spending reached over $450 billion in 2015 and is expected to continue to rise in the coming years. However, the U.S. has also seen a significant shift from brand-name prescription drugs to generics, which have resulted in more than $1 trillion in savings over the last ten years. Today, roughly 8 out of 10 prescriptions filled in the U.S. are for generic drugs, which are typically priced 80%-90% lower than their brand-name counterparts.
Brand-name pharmaceutical companies typically seek patent protection for a product while it's still in development, while exclusivity is granted upon approval by the FDA. Together, the two can protect a medication from generic competitors for as long twenty years. Astrazenica, Merck and Pfizer are just a few of the Pharma giants facing patent losses this year on some of the industry's biggest brand medications.
Drugs like Crestor and Zetia (for cholesterol) have brought billions in revenue for their manufacturers over the years, though generic versions could significantly slash sales as they go off-patent. Crestor recently lost its patent in May, leaving Astrazenica in what CEO Pascal Soriot called a "transitional period," down 3% in revenue and 2% in product sales at the end of Q2.
IMS Health predicts that global spending on pharmaceuticals will increase up to 30% by 2018, claiming that "More than 80 percent of the forecasted growth in drug spending will be for non-branded medicines, including greater use of biologic therapies."