Oh Snap(chat)! Tech Giants Master the Art of Mobile Marketing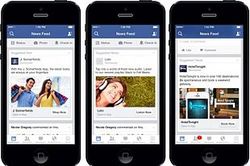 Mobile advertising is on the rise, anticipated by many to lead the global advertising market- perhaps even by the end of this year. Social media, in particular, has become an increasingly popular channel for marketing in all industries, giving advertisers unique opportunities to increase brand awareness and optimize user engagement. Here's a quick look at how of few of the world's biggest tech companies are building their mobile brands:
Snapchat is currently working on a new advertising platform that uses geolocation and image recognition software to offer users coupons, ads and unique filters. In a recently discovered patent filing, the company illustrates the potential to move beyond the current geofilters available for specific locations and events, offering a new assortment of filters based on the objects in a user's photos. One specific example used is a photo of the Empire State Building. Snap a quick picture of this iconic structure, and you might have the option to filter it with an animated King Kong. During this time, the app may also send a menu for the STATE Grill Bar, or target ads based on stores in the building's lobby.
Facebook is also focusing on its advertising, especially on the mobile side. In fact, first quarter reports show that more than 80% of the social media company's ad revenue stream came from its mobile division, and it's continuing to rack up related patents. Particularly, Facebook has developed a knack for app-related advertisements and has even been called one of (if not the) largest platforms for app marketing. Most recently, the company has announced the use of App Event Optimization for its mobile app install ads, which can target ads based on a person's likelihood to "take valuable actions within their apps." Essentially, those who buy more, complete a higher number of levels, or frequently launch similar apps are deemed more likely to download and use a new app they see advertised.
In a recent blog posting, Google announced the addition of price extensions to its Adwords service. Businesses in all industries can create an ad, choose their search terms and even set a budget, only paying when a potential customer clicks or calls. The new price extensions aim to give participating advertisers a more "structured way of highlighting information," providing Google mobile users with multiple rows of product or service descriptions and price information before they click. The tech company is also expected to launch AMP for Ads in the near future, a project aimed at encouraging the development of faster mobile ads. The initiative will come with specific guidelines and code requirements that will help businesses to create more mobile-friendly advertisements for consumers.