ASU Aids White House in New Innovative Initiative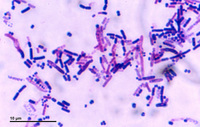 Arizona State University is working with the White House on a new initiative centered around the study of communities of microbes in a number of different environments. The White House Office of Science and Technology Policy (OSTP) recently announced the National Microbiome Initiative (NMI), aimed at supporting research and the study of microbiomes in order to develop new and useful applications in areas like healthcare, climate change, forensics and several others.
ASU's Dr. Ferran Garcia-Pichel, dean of natural sciences in the College of Liberal Arts and Sciences, is one of those selected to help lead the initiative. One way he's doing so is by founding the ASU Biodesign Center for Fundamental and Applied Microbiomics, a facility dedicated to bringing together researchers in a number of different fields to help explore the importance of microbial communities and their effects on all aspects of life. In a recent press release, ASU executive vice president and university provost Mark Searle stated that, "We have created a center that brings together some of the brightest minds in areas…necessary for the Herculean task of understanding microbiomes…Until now, these experts didn't have a place to come together to explore and advance this research, which has immediacy for everyday life. We are proud ASU has a leading role in this effort."
Understanding these communities of microorganisms in a variety of environments has become an essential part of understanding the human experience, and according to the OSTP, investment in microbiome research has grown significantly in past years, tripling to over $920 million from 2012-2014. Recognizing the importance of such research, the OSTP issued a national call to action earlier this year, encouraging researchers, investors and other interested individuals and organizations in all sectors to get involved. As a result, the OSTP saw more than $400 million in new commitments, in addition to more than $121 million from Federal agencies.
Moving forward, the NMI plans to focus on three key areas: supporting research of microbiomes in "diverse ecoysystems," developing new platform technologies to help broaden access to this research, and increasing educational and "citizen science" work opportunities in the microbiome field. To read more about the NMI, or to see how ASU is involved, click here.