NASA Technology's Giant Leap on Earth and in Space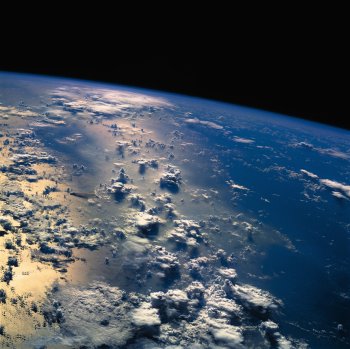 In 2011 NASA and General Motors, in collaboration with Oceaneering International, helped launch a humanoid robot into space for the first time. Since then Robonaut, and its most recent version R2, have helped human crew members aboard the International Space Station perform a variety of tasks from the mundane to the difficult and dangerous.
Designed to mimic human physiology, R2 is the most advanced robot of its kind and features roughly 50 patented and patent-pending technologies like sensor integrations, tendon hands, image recognition systems and much more.
Now, NASA is taking the same technology and putting it into the medical field with new devices like the exoskeleton glove. This robotic glove is designed with flexible tendons, sensors that facilitate movement and grasping force and a complete tendon drive system. The technology is not only helpful for those with restricted hand movements due to injury, but could serve as a reliable assistant to those performing jobs with heavy hand work, such as glass installation.
NASA has also teamed up with the Florida Institute for Human and Machine Cognition to create an exoskeleton suit that could one day compare to that of Marvel's Iron Man. The X1 is a 57lb device worn over the user's legs and connecting to the shoulders to give those wearing it added or inhibited strength and movement in the lower body. Designed as an exercise tool for astronauts in space by providing increased leg resistance, the suit may also help restore motion to the people on earth who have undergone paraplegia or stroke.
Michael Gazarik, director of NASA's Space Technology Program, said in a recent statement that, "What's extraordinary about space technology and our work with projects like Robonaut are the unexpected possibilities…It's exciting to see a NASA-developed technology that might one day help people with serious ambulatory needs begin to walk again, or even walk for the first time."
For more information, click here.